COMPANY PROFILE
Our three areas of consulting services
Fidinam is a private consultancy company that began its operations in Lugano (Switzerland) in 1960 offering consulting services related to taxation, business management and real estate to companies, entrepreneurs and individual clients.
In 60 years of activity, we have acquired a noteworthy range of skills and contacts giving us the capacity to meet the needs of every type of customer and all kinds of market challenges.
We have therefore constantly expanded our international range of action: Fidinam Group Holding SA operates from Lugano, covering Switzerland and Europe, while the markets outside of Europe are served by Fidinam Group Worldwide Ltd based in Hong Kong. In addition a capillary network of correspondents strengthens our presence all over the world, thus enabling us to offer our services in multiple jurisdictions.
MISSION AND VALUES
Dynamic, innovative and customer-oriented approach.
Our Group's history, which stretches back over many years, and its activity are based on a system of solid corporate values embodied in three principles that are observed by all our employees in their daily relationships with customers, the community, institutions and commercial partners.
Dynamism
Entrepreneurial creativity and capacity to adapt to the ongoing changes in the markets where we operate.
Specialization
Competence, professionalism and constant updating so as to be ready to cope with changes in regulatory frameworks and framework conditions.
Confidence
Proximity to customer needs through service customization and discretion in our relationships with clients.
Our mission is to provide integrated and multidisciplinary consulting services, offering our customers a tangible additional value and a high level of capacity to adapt to every reality. This means that our 250 employees – characterized by a dynamic, innovative and customer-oriented approach – receive constant updating on regulatory developments and new management technologies.
HISTORY
Fidinam, consultants since 1960
For the history of Fidinam, our reference source is the letter written by the Group's Honorary Chairman, Dr. Tito Tettamanti, Att.-at-Law, for the celebrations to mark the 50th anniversary of the foundation of the Fidinam Group.
50 Year by AAL. Dr. Tito Tettamanti
This overview to mark a key Company milestone shies away from the usual celebratory eulogies. Let me therefore start by confessing that Fidinam was initially founded because Tettamanti-Spiess and Dotta, a legal partnership, needed to offer administrative and accounting services to its clients. Development well beyond our initial intentions came subsequently, thanks also to the favourable economic period. When the Company was first incorporated, we sought an operational model suitable for our restricted market – Switzerland's Ticino canton – but one that would allow us to grow. The formula we chose that, without false modesty, proved uniquely successful, was based on four key pillars: excellence, niche market services, flexibility of company structures, and an ability to seize opportunities as they presented.
By placing itself in direct competition with large, well-respected multinationals, our small Ticino-based company could only hope to succeed if it offered services of excellence in niche markets where creativity and flexibility were more important than size and depth. The need to be agile and quick off our feet meant we had to be prepared to pitch our tent where the opportunities lay but also knew when it was time to move on as markets and customer requirements changed. This is well illustrated by our business in Toronto. Today, we are no longer on that market. Similarly, we have had offices in Sidney, Hong Kong, Caracas, United states and the Netherlands to meet client requirement. The same goes for New York. In the Eighties, I realized the many openings to be had in the financial sector, and followed them personally. Unfortunately, however, the risks involved were beyond the capability of an exclusively services Company like ours, however attractive the returns. These were the considerations – and serious concerns – that accompanied our small Ticino outfit in its determination to operate for and with international customers on international markets, taking on international competition.
All this would not have been possible without a resilient core of Ticino co-workers. Over the last 50 years more than a thousand people have at some time in their careers been members of our staff. We are indebted to them all, whatever role they played. Some have been with us throughout their professional lives; others stayed for several decades while others helped us develop and then decided to move on in other directions and to new professional challenges. It is a source of great satisfaction to know we have been instrumental in forming new generations of economic operators and professionals. It would not be fair to single out just a few names among the very many who have contributed to build Fidinam. I must, however, mention the two people who started the adventure with me: Renato Zocchi and Franca Ortelli, whose untimely passing was a great sorrow. Their commitment and courage as they acted as tax advisors, accountants and company or real estate consultants as the situation required was driven by youthful bravado – and aided by very different times when things were easier and less complicated. Development brought expertise, professional acumen and competence sharpened by the international challenge.
The time came too, when the reins had to be handed over. For more than five years now the Group's management has been in the charge of a generation of forty-years-olds who hold the positions of Chairman of the Board, General Manager and Partners of the individual business sectors. Economic developments of recent years along with the increasingly stifling pressure exerted by governments in desperate attempts to balance their budgets after decades of carefree spending pose new and onerous challenges for our business. This is not the first time we have had to re-invest ourselves in order to provide worthwhile services to our clients. Today we must once again ask ourselves how we can provide advice and represent our clients' interests in the increasingly restricted space conceded by an all pervasive bureaucracy. The questions we should be asking are how and in what part of the world we should operate. Difficulties continue to spur us to seek continual renewal, a characteristic that has marked us out over the last 50 years.
A great deal is said about "corporate social responsibility". This deliberately fuzzy formula often hides equally fuzzy thinking, even hypocrisy. But if this fashionable formula means hard work, giving one's all, closing every financial year in a row with a profit, distributing hundreds of millions in salaries, paying all taxes due, retaining and increasing jobs, encouraging usinesses into our Swiss canton, training young professionals, giving young Swiss men and women from the Ticino or elsewhere the opportunity to make their mark abroad, then we are happy to be considered socially responsible.
But the Ticino is where our roots are, the place we remain – and always will remain – attached to. Indeed this is what ensures that wherever we go in the world we will never lose our identity. As a token of gratitude, the Fidinam Foundation has devolved a total of one million Swiss francs to the Canton to mark the fiftieth anniversary of the firm. The money will sustain educational, healthcare, economic and cultural activities as well as programmers to help the needy. Fidinam is committed to being a part of its country's future. We have done nothing that special over the last 50 years, except perhaps show that the best way of contributing to the community at large is to go about one's own business intelligently and honestly.
AAL. Dr. Tito Tettamanti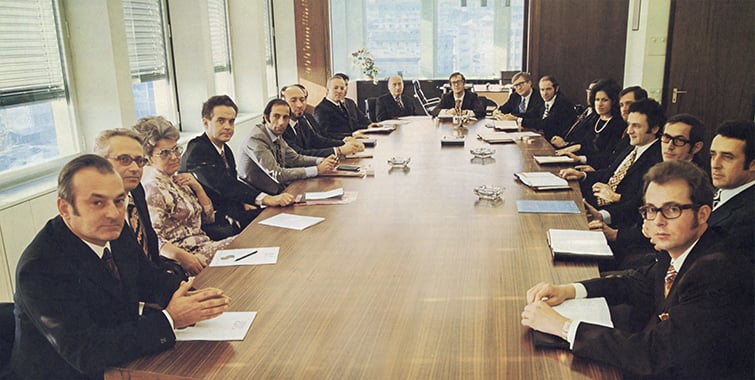 FIDINAM FOUNDATION
Benevolent support in relevant areas of society
The Fidinam Foundation is a non-profit organization created in 2008 and supervised by the Swiss Confederation, exercised by the Federal Department of Home Affairs (FDHA). For his activity he can rely mainly on funds made available by a trust constituted by Avv. Dr. Tito Tettamanti, from donations made by the Fidinam Group, of which Avv. Dr. Tettamanti is the founder, and from third party donations.
By statute the Foundation is committed to support projects in the fields of education and culture, health, the fight against poverty and support for the market economy. The Fidinam Foundation contributes to the financing of non-profit initiatives in relevant areas of society both in Ticino and in other regions of Switzerland.
Over the past 10 years, the Fidinam Foundation - together with its sister company Fidinam International Charity Foundation - has donated a total of 14 million Swiss francs.
The Foundation is chaired by Avv. Dr. Tito Tettamanti, honorary president of the Fidinam Group and in the founding board sit Avv. Massimo Pedrazzini, Dr. Roberto Grassi, Prof. Dr. Med. Tiziano Moccetti, Mrs Alessandra Niedecker and Dr. Konrad Hummler.
Contact:
Fondazione Fidinam
Via Maggio 1
6900 Lugano
Mail: fondazione@fidinam.com
Tel. 091 973 17 31
CORPORATE BROCHURE
Consult the Fidinam Group brochure