TRANSACTION SERVICES
Born from the collaboration between Fidinam Group Holding SA (Lugano) and Ramus & Company AG (Zurich), Fidinam & Ramus SA is an independent consulting firm specialising in extraordinary finance operations such as mergers and acquisitions (M&A), financial restructuring operations, strategic partnering and the search for development capital. The combination of independence in consulting services, tradition and in-depth knowledge of the dynamics of the markets involved guarantees Fidinam & Ramus's unique positioning and its preferential access to domestic and foreign investors.
SERVICES
Mergers & Acquisitions
As an independent financial boutique, Fidinam & Ramus is available to support you with the utmost dedication in extraordinary financial operations such as sales, mergers and acquisitions. Thanks to the synergies established with the Fidinam group, we can count on a set of complementary skills and offer complete company succession planning in all phases of the process.
Strategic partnering
"Strategic partnering" services include all those activities that are related to the search for and implementation of strategic partnerships and alliances, such as joint ventures, market-entry strategies, setting up and executing international growth projects.
Debt Advisory
Fidinam & Ramus also includes within its consulting scope a series of projects related to the structuring, organization and obtaining of alternative and structured bank loans in the context of corporate financial restructuring and reorganization operations.
Lugano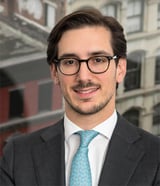 Andrea Nessi
Master of Laws, LL.M.
Managing Partner

Fidinam & Ramus SA
Via Maggio 1 - 6900 Lugano - CH
Tel. +41 (0)91 973 12 80