COMPLIANCE
Compliance services are provided by Geissbühler Weber Fidinam SA, a joint venture between Geissbühler Weber & Partner AG and Fidinam Group Holding SA, which has the aim of offering excellent compliance services. GWFi SA works alongside financial operators operating in Ticino, assisting them in meeting the growing challenges posed by ever-changing regulatory frameworks.
SERVICES
Consulting
GWFi SA develops tailor-made solutions for issues relating to all aspects of the financial market regulations. In particular, GWFi SA offers a practical and complete assistance in ensuring the compliance and implementation of the new regulations, such as MiFID II, MiFIR, EMIR, FMIA and AEOI.
Health-check
A Health-check of the organization and its processes will highlight in advance weaknesses and gaps as well as reveal the potential for improvement and efficiency gains. Through a targeted analysis, GWFi SA provides assistance in the timely identification of critical issues as well as in the implementation of possible solutions.
Remediation projects
GWFi SA is able to perform an independent analysis in order to obtain an objective evaluation of potential gaps affecting your organisation: it will be thus possible to implement targeted measures to recreate full compliance with existing regulations.
Training of personnel
GWFi SA offers customised training programmes addressed to financial services providers. GWFi SA guarantees that both staff and management will be properly prepared through the definition of an effective training strategy and a programme aligned with the prudential supervision's requirements.
Outsourcing and body lending
With a particular focus to the efficiency and the streamlining of processes, GWFi SA can take over the compliance function by applying the highest standards in term of professionalism and independence. If you need, on the other hand, to strengthen your compliance team, the Body Lending service represents the ideal solution in case of temporary staff shortages.
Specific services for external asset managers (EAM)
GWFi SA assists external asset managers in adopting the decisions aimed at defining their strategic orientation, for example with regard to the implementation of the start-up phase, the licensing by the authorities, the evaluation of appropriate platforms and the definition of compliance processes.
Lugano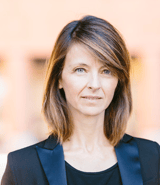 Claudia Nessi
Lic. oec. publ.
Vice-director

Fidinam SA
Via Maggio 1 - 6900 Lugano - CH
Tel. +41 (0)91 973 17 31 | Fax +41 (0)91 972 28 28